SUSHI-TSU
by Michael Baumgärtner
Sushi made out of marzipan
A funny idea is Sushi made out of marzipan and the preparation is not that difficult.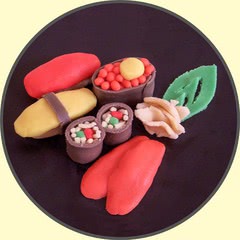 For Sushi made out of marzipan you need raw marzipan mass, caster sugar and food colors.
Marzipan
Ingredients
200

g

raw marzipan mass

100

g

caster sugar

1

food color red

1

food color yellow

1

food color blue

1

food color green
Preparation
Knead raw marzipan mass and caster sugar well until the marzipan gets smooth. Lay aside one third of the marzipan. Divide the remaining two thirds into four pieces of the same size. Color each piece with one of the food colors. By mixing marzipan of different primary colors you can easily create other colors later on.
First, we prepare some marzipan rice. Therefore roll a part of the non-colored marzipan by hand to a long, thin roll or press the marzipan with, for example, a garlic press. Cut small pieces of rice corn size with a knife from the marzipan. This is a lengthy procedure so you better use the marzipan rice only at Sushi spots that can be seen. For unseen spots we work with the untreated marzipan.
To fabric Nori out of marzipan take some of the red, green and blue marzipan and knead it. We get a piece of dark brown marzipan that we roll out as flat as possible.
Tip

To roll out marzipan, put it between two layers of cling film so it does not stick.
Nigiri
First, we form some of the non-colored marzipan to a longish roll. Subsequently take pieces of the before prepared marzipan rice and press it to the sides of the roll. You might leave out the upper side and the bottom. Take the red marzipan and form a longish slice, somewhat longer than the roll, and put it on the roll so that the slice overlaps on both ends.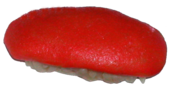 Different colors result in different Nigiri: Red stands for Maguro-Nigiri (tuna), orange (red and yellow) for Sake-Nigiri (salmon) or yellow for Tamago-Nigiri (omelet).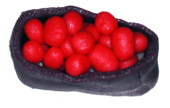 For Nigiri in Gunkan style we begin again with a longish roll made out of the non-colored marzipan. From the rolled out marzipan Nori cut out a longish stripe (about twice as wide like our roll is high and two and a half times long). Apply the stripe fitting to the roll and wind it round the roll. Now you can stuff the Gunkan-Nigiri, e. g. with small balls made from red marzipan for an Ikura-Nigiri.
Keep damp marzipan

Always put a damp cloth on the marzipan. Otherwise it will dry up very fast and cannot be well processed any longer.
Maki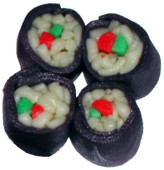 Form a roll out of the non-colored marzipan of about six cm length and about two cm in diameter. Cut this roll into four pieces of the same length. This is the basis for our four Maki-zushi. Now wind stripe of marzipan Nori, two cm in width, around each piece so that the strip projects only on a side and is concise on the other one.
In the resulting cup you put a piece of red and green marzipan that represents the stuffing. Fill out the remaining area with our marzipan rice.
Miscellaneous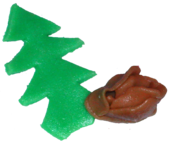 We can bring the rest of our marzipan into the most diverse forms. You may develop for example Gari (pickled ginger) or a Baran (an artful cut decoration sheet).