SUSHI-TSU
by Michael Baumgärtner
Tuna-Maki (spicy)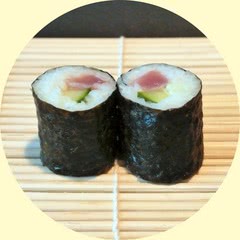 The spicy touch of this roll comes from Togarashi, Japanese mixed herbs consisting of chili pepper, sesame, seaweed and skin of oranges. Furthermore, there is Sriracha used, a Vietnamese chili sauce. In order to take the pungency away, the herbs are mixed with Japanese mayonnaise.
Spicy Tuna-Maki
Ingredients
2

seaweed sheets

1

portion

Sushi rice

180

g

tuna

1

tablespoon

fish roe

1

tablespoon

Japanese mayonnaise

¼

tablespoon

Japanese chili pepper

½

tablespoon

Vietnamese chili sauce

½

cucumber

sesame
Preparation
Cut the tuna in small pieces. For the sauce, mix mayonnaise, fish roe, chili pepper and chili sauce. Blend with the tuna. To adjust the pungency it is best to vary the amount of chili sauce. Roast the seaweed sheets briefly on one side. Peel and core the cucumber, cut it in strips. Cover it with salt and leave alone some minutes. Then rinse off to get rid of the surplus liquidity. Now make four Maki-rolls with the spicy tuna, the cucumber and some sesame.