SUSHI-TSU
by Michael Baumgärtner
Skewered chicken (grilled)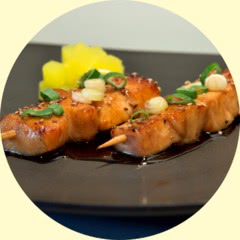 Yakitori is grilled chicken speared on sticks.
Skewered grilled chicken
Ingredients
chicken breast

4

tablespoons

soy sauce

3

tablespoons

sugar

rice wine

honey

green onions
Preparation
Reduce soy sauce, sugar, rice wine and honey quickly to two thirds by cooking. Cut the flesh to pieces of about 2 cm and leave it alone some time in the marinade. Then spear the chicken breast in turns with pieces of the green onions onto small wooden skewers. Grill the skewers or fry in the pan. Spread marinade on from time to time.